The Kmart promotion  for the mail in Ivan and poster.
Order forms and rules are online at
http://www.mattel.com/KMCars
OFFICIAL RULES
1. During the Promotion Purchase Period from June 4, 2013 to August 8, 2013, buy $20 or more on one receipt (minimum amount must be met before taxes) of any Disney·Pixar Cars toy products from Mattel at participating Kmart stores (sorry, no online receipts from Kmart.com will be accepted).
2. Mail a) your original receipt dated from June 4, 2013 to August 8, 2013, b) and a completed order form to (Click Here for order form):
Cars Ivan
P.O. Box 1229
East Aurora, NY 14052
Requests must be postmarked by August 15, 2013, and received by August 30, 2013. The completed mail-in order form must accompany your request. You must purchase at least $20 (twenty dollars) (minimum amount must be met before taxes) of any Disney·Pixar Cars toy products from Mattel on one receipt within the promotional period. There is a limit of 1 (one) Ivan vehicle for every $20 (twenty dollar) minimum purchase within the promotional period. Offer is limited to 10 (ten) Ivan vehicles per household per promotional period.
3. Receive a Disney·Pixar Cars Ivan vehicle by mail in 8 - 12 weeks. Sponsor reserves the right to substitute an item of equal or greater value, should it become necessary.
4. No copies or mechanical reproductions accepted. Material from non-compliant or duplicate requests will not be returned. Mattel is not responsible for lost, late, damaged, misdirected, incorrectly addressed, illegible, incomplete, undeliverable, destroyed or postage-due requests, or requests with inaccurate or incorrect information or typographical errors.
Damage to the blister card packaging will not be considered a defect to the product, and thus replacements will not be provided. If Mattel can confirm delivery (via a traceable shipping method) at the address provided, Mattel will be under no obligation to replace the shipment.
This offer is valid for purchases made in, and orders mailed from, the continental U.S., Alaska, Hawaii and Puerto Rico only. This promotion is subject to all applicable federal, state and local laws. Offer void where prohibited, taxed or otherwise restricted by law. Offer not valid in conjunction with other offers or coupons. No rain checks or other price/product guarantees will be honored. Fraudulent submission could result in federal prosecution under the mail fraud statutes.
OK, everyone I have been waiting to hear and its indeed  good news! Below is the text of the email from Kmart I received today.
So clear out those shelves and pegs in May during the 99 cent sale on Deluxes, and the new Francesco Fan Mater Chase Deluxe will come in late May and early June.
The October event will feature all new CARS!!! No Silvers or Rubber Tired Racers.
(Its clear now that the silver racers Mcqueen and Rip are going to mainline)
Here is the text of the email
!
I wanted to make you aware of something if you want to let your Cars Collectors know on your websites. In lieu of running our normal
cars collector event in June we plan to do the following:
1) We plan to bring in a new Oversized assortment of Cars characters that should hit store shelves sometime in late May/early June
that will have the following Cars characters in it
(Barbara this is the mix I was telling you about last week):

2 units of Francesco Fan Mater (chase, first to market)

1 unit of Elvis RV – first time seen in 2013 (was told last time this was out was 2011)

1 unit of Al Oft the Blimp

2 units of Mack

update: 5//2013 Hi Barbara and Kevin, I just got informed that there will be two changes to our Oversized plans for June
1) A mix change for the Oversized vehicles. I think this is a good change, see notes below.
2) Due to mix change they will be late now getting us the product – we thought we would have in store around May 26-June 2. It will now be June 9-June 16 in stores (around this time as each store has different dates they get trucks).
Mix Changes – see red notes
              1 unit of Francesco Fan Mater (chase, first to market) – originally we were told it would be 2 – going to 1 really makes it a chase
        1   unit of Elvis RV – first time seen in 2013 (was told last time this was out was 2011) – stays the same
            0 Al Oft the Blimp – Mattel pulled this item from the mix
            1 unit of Mack – originally we were told it would be 2, this reduction is good cause you indicated it as a peg warmer
               2  2 unit of Mater Hosen – this was added - first to market
              1   unit of Dustin Mellows - this was added (out before but Mattel indicates it was limited)
All of these will be in the new white packaging.
Thanks.
 In order to make room for this new mix we are going run a temporary price reduction on the current Oversized mix that is in the
stores at $0.99, this is a $7 savings. This will run from May 5 through May 25. This will not be advertised in our preprints or
anywhere else – only being done at store level. Maybe you can advise your collector base so they can take advantage of this – also
this is a great price point to pick up some as donations as well for Toys For tots, etc.
The Cars collector event will be coming back in October, it should be new first to market cars, no rubber tire racers or silver racers
– just a chance to get the collectors cars they do not have for their collections. Once I know the mix I 'll let you both know (but
you guys usually know before me cause they end up on ebay first from China, LOL)
Thanks.
KMart has some wonderful plans for Collectors, Parents and Children for the June event!

Buy $20 of Cars Toy Products and receive a Free Ivan and a Free Poster!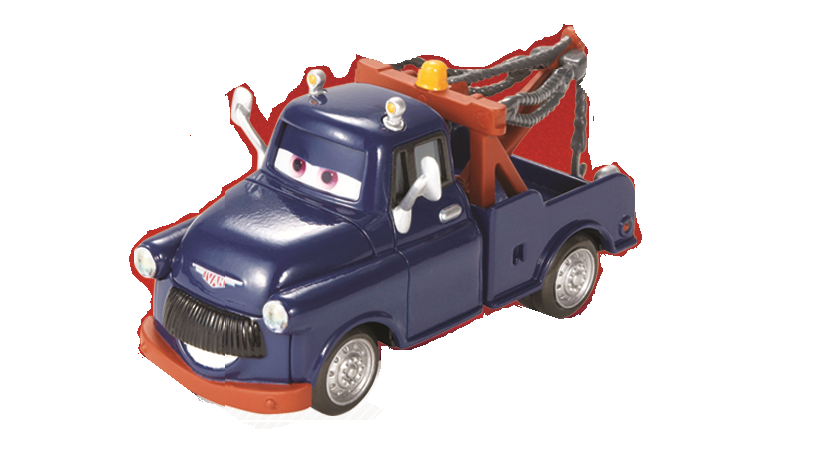 Yes you read that right, Ivan the bad guy from Cars 2 who Mater impersonated in the Casino.
 I will get the final official flyer about a week before the June 4th event starts and will post it here, and other people can post elsewhere.

What I do know is what I was told:
To Receive a Free Ivan:
Buy 20 Dollars worth of Cars toys.
Offer valid from June 4th to August 8th.
In store Only.
No rainchecks.
10 (ten)  per household.
Rules will be posted online by Mattel.



So Ivan will not be in the stores, he will be available on a Mattel website. The in store flyer will give details on how to get your Ivan. Thats why Kmart said to be sure and get the flyer.
Each store gets at least one casepack, some stores in larger
areas might receive more and depending on what is left in DC stock the
stores could receive another casepack.  This was sold to us very tightly
by Mattel - 12,000 total units in a casepack of 6 so 2,000 total
casepacks - with 1,200 stores we are limited 1 casepack per store
minimum, maybe 2 casepacks in larger stores."

"As indicated in my e-mails to Barbara and Kevin, there was no collector promotion on this mix coming in and no posters in boxes. I wanted to help out the collector community which is why I alerted them that this mix would be arriving in stores and collectors should be on lookout for it. The promotion that is going on is in the in store savings guide passout for the mail in Ivan and poster which can also be found online at http://www.mattel.com/KMCars , since stores cannot do anything as this is a mail in rebate their only information would be from savings guide passout. Those are in their stores so they should know about that if they looked through the flyer. "


___________________________________________________________________________________________________________________________________________________
The October event will have first to market Cars and may feature a Double Ransburg Rip and Double Ransburg Silver Mcqueen.

The two Ransburg Cars are planned but assortments are always subject to change, so until the exact mix is revealed we will not know exactly.
And more surprises may be in store for us in October. A wonderful Gift may be in store for those who attend the October event.
The October Event Gift with Purchase ($ purchase amount to be determined) could and I repeat could possibly have one of the most anticipated diecasts of the Year 2013. We have seen the pictures but now it may become a reality. The wonderful Oversized John Lassetire Epilogue Truck!
tThis is going to be a very special event for Car Collectors! I can't wait to see if this truck becomes a Collector's Gift!

Buyer - Boys Toy Categories
Sears Holdings Corporation
3333 Beverly Rd
Hoffman Estates, IL 60179